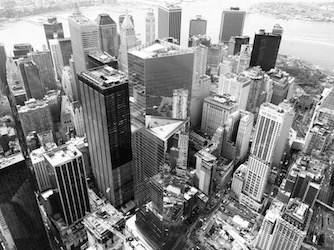 As always, Lightfair was fun. Seeing familiar faces, making new connections, mingling with award-winners (congratulations!), and talking shop until blue in the face. A few things stuck with us.
It's all about friends
Each year, we connect with more amazing market partners and friends. Rick and I sat down with Richard Meek, Principal at Archibald & Meek, and a few of his spec sales and marketing colleagues (they recently added Vode to their line card). They were thoroughly impressed with our magic act: pulling three Zip fixtures from a 2"-diameter packing tube. [[Insert "packing light" pun here.]] We caught up with new friends at SLS Vancouver and the Southeast crew from Sesco Lighting, in addition to friends we've known and loved for years. You guys are the best.
Quite a view
Thanks to MRD Lighting, the One World Observatory on the top floor of New York's One World Trade Center is beautifully lit. It's an inspiring space, thanks to many and, luckily, Vode was part of the spec. After a speedy elevator ride up 102 floors (32 secs, I swear) we were in the observatory with the place to ourselves. The views are unparalleled and fully New York -- the Statue of Liberty, Ellis Island, and a breathtaking drop to the city. What an opportunity and thanks again to all involved! We'll never forget it.
*One World Observatory opens to the public on Friday, May 29th.
Call for Emerging Designer Sponsorships
The Emerging Lighting Designer Initiative educates, inspires, and supports the educational development of emerging talent and directly contributes to the ongoing success of the IALD by introducing new designers to the Enlighten conference. As Scott Hershman said at the IALD LIRC meeting, "The Emerging program is a unique opportunity. Everybody has a little skin in the game; the designer, design office, IALD and the manufacturer are all invested. As a manufacturer, you get to introduce the emerging professional to the larger lighting design community while building a personal relationship that will last years. Being an LIRC member and sponsoring raises your profile and the LIRC's profile. You'd be a fool not to sponsor!" The LIRC is proud to kick off its 5th year of collecting sponsorships. The target for this year -- collect 60 sponsorships by the end of July!
Over the past four years, the impact has been enormous
:
160+ emerging designers have attended Enlighten via sponsorships
$115,000 in sponsorships by manufacturers
Designer attendance to Enlighten has increased
IALD memberships increased by 40%
Vode's fully committed to this initiative and will continue to support incredible emerging talent in our industry. We're sponsoring six emerging designers this year and hope our fellow manufacturers will do the same! To learn more about this program and how to contribute, please visit the IALD website, http://www.iald.org/council/emerging_supporters.asp.
See you next year Lightfair!
George
Subscribe and stay up to date
No spam, we promise! You will only
receive essential emails.