So often the ideal lighting you'd like to use in for a wall or ceiling application meets only 2 of 3 critical criteria for specification. Now there's an adaptive linear LED lighting system designed expressly for compact spaces and expandable to any length.

TRO Jung|Brannen, Boston, MA | Architecture: TRO Jung|Brannen | Image: Richard Mandelkorn Photography
Someone has been paying attention
The folks at Vode Lighting have developed a mental checklist of what top lighting designers and architects are looking for in commercial lighting. Below are the most critical requirements they've recently compiled:
A super slim design with a 1" square or diameter profile being ideal

Visually seamless high output from linear lighting, up to any length

An adaptive system design that can work in compact cove, perimeter and wall applications
Gambling won't cut it
Of course, those should be considered just table stakes, to use a Poker metaphor, because there are also a host of additional attributes that are critical for high-end architectural lighting.
First, the fixture system needs to deliver high quality light that's evenly spread with no visible gaps in light distribution between fixtures. The light needs to be controlled, so a selection of optics and beam control solutions are a must. And given it's frequent use for wall washing and grazing, there shouldn't be any unusual lighting effects seen when fixtures are mounted directly next to surfaces.
Second, the lighting should be easy to install, commission and aim. A small selection of versatile mounting brackets that allow for rotation and tilting, as well as static mounting would allow the system to be used for all but the most unusual applications. If the hardware required only the tightest clearances for mounting screws and tool access that would be a huge benefit, especially in many smaller hospitality and entertainment venues where indirect lighting is so popular these days.
And third, it has to be high quality architectural grade lighting robustly designed and constructed of sturdy materials and components so installation is simple and very little or no maintenance is requried for 5 to 10 years.
The solution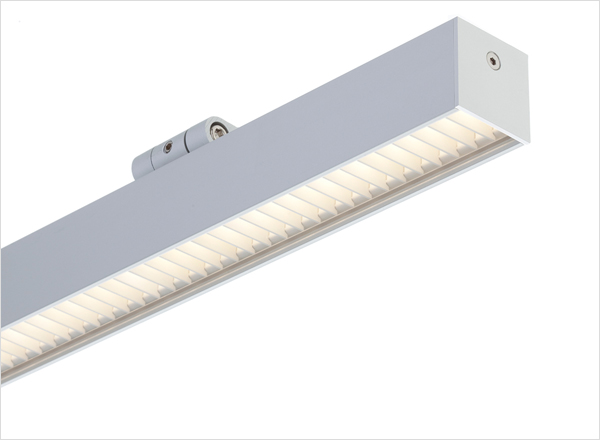 Fortunately, Vode has listened and today it is proudly introducing the BoxRail LED 907 lighting system to satisfy all of the demands described above.
Special characteristics and benefits of the BoxRail 907 product include:
Elegant low-profile design
Featuring a minimalistic square profile. It measures just 1.14" (29mm) x 1.14" (29mm) and comes in standard lengths 2', 3', 4', 5' and 6'. Its sleek and robust yet lightweight design makes it appropriate for installation wherever quality and aesthetics matter.
Truly mountable anywhere
BoxRail 907's slim design allows it to fit in very tight spaces such as perimeter slots as small as 1.6" (42mm) x 1.28" (33mm). The system includes architectural-grade rotatable or fixed mounting brackets allowing rails to be positioned at nearly any angle. Such flexibility makes the system ideal for a broad range of indirect ceiling, wall and unique architectural space applications.
Superior and seamless light quality
The BoxRail 907 is an extremely adaptive solution with 2mm end caps allowing for visually seamless washes of light when lengths are mounted end-to-end. It's symmetric profile, variety of beam control options and color temperatures (2700k – 4000k) enable superior control over light quality and distribution. It's also a high performance solution. The SO version delivers up to 492 lumen per foot at 80 lumen per Watt (4000k) and the HO version delivers over 802 lumens per foot at 64 lumens per Watt (4000K) with 80 CRI minimum, 85 average. It's built on Vode's own constant current Zipper and Button board technologies using the latest generation LED diodes.
Easy specification and installation
The minimalistic design and modular system layouts make the BoxRail 907 one of Vode's simplest lighting rails to specify. Three mounting bracket options accommodate nearly every situation without requiring custom modifications. Remote drivers can be located up to 72' away. The simple product design and high manufacturing quality, combined with the simple mounting options, makes the product line easy to install and maintain.
Check it out
Click these links for new BoxRail 907 features, Options or Technical info.
Subscribe and stay up to date
No spam, we promise! You will only
receive essential emails.