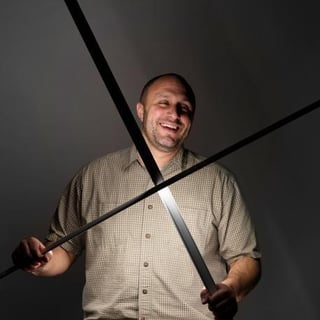 April 5, 2018
How does having 6 kids make you awesome at your job as Senior Special Projects Manager at Vode?
As co-manager of "Team Brophy", chaos is my middle name. At home I'm either unclogging toilets, negotiating with my teenage daughter about why she doesn't need a new pair of jeans, or running to the store for the 5th time in one day. It's all problem solving and keeping the team moving forward in one direction. And my kids like to remind me all the time that I'm a "senior".
What our customers love about Vode is that we listen to their ideas and take action on their requests and suggestions for lighting solutions. They want to be heard. We listen and learn from these unique projects and we use this knowledge to make Vode standard products even better. Team Brophy runs on a similar principle. There are lots of voices, requests and wild ideas being thrown out, and you need to determine which ones are valid, doable, and of maximum benefit, without making mom and dad want to run off to Mexico and change their identity.
So, what's so "Special" about Special Projects?
At Vode I manage custom projects and shepherd the development of new products that have never been tackled before. It's a bit like leading a pep-rally for my colleagues… "Come on team you can do it!" and then come the timelines, and projections, followed by donuts, chips (usually for me but I do share) and a great deal of optimism. When you get the opportunity to work on a project like Hyatt Headquarters or Google and they want something that's one-of-a-kind, you don't say no. It's kinda like Christmas at my house. As much as you want to skip the whole presents, decorations and debt thing because you just don't know how on Earth you're going pull it off, you persevere and get really creative because you just can't let your people down.

What's it like being a soccer dad?
The team at Vode always wonders how I can eat so many donuts and not weigh 300 lbs. Six kids and coaching three games of soccer and baseball each weekend burns a ton of calories. Also, coaching multiple teams for multiple kids makes you hyper-organized. You need to remember which game you're going to and which kid to take. You need to remember all of their names, their strengths and weaknesses and what motivates them. Also, you can't leave one behind when you take off. This is just like managing special projects at Vode, except I don't get orange wedges or juice boxes stuffed into the seats in my car.
Why six kids and what are their names?
I actually never wanted kids, not because I didn't like kids, but I wanted to be a race car mechanic. I remember listening to stories about race teams travelling the world and how "they were an extended family." When I met Carrie, she made it clear there would be no race car stuff besides racing video games. After we had two kids, it was obvious that we both thrived as multitaskers and parents. I especially love kids at 2-4 years old. So we just kept recreating that age bracket. There's something magical about that age. Their personalities begin coming out and they think daddy is GOD. By five years old, they realize daddy isn't very smart and they can start beating me at video games.
Emma

is 15. She was our first and no, she wasn't named after Monica and Chandler's baby from Friends. She also looks more Irish so she got the Irish name.

Bella

is 13. Our top picks for girls names were Emma and Bella...so we got to use both. Bella looks more Italian so she got that name.

Griffin

is 11. I am big into robots and mystical creatures.

Porter

is 8. Porter is named after my favorite beer.

Trey

is 6. The "third" boy..

Paisley

is 3. Carrie, loves the pattern, but really this name was chosen by the kids...after five kids you kind of lighten up on the names.
Working at Vode can often be crazier than my home life but I'm well-equipped for the challenge and this is a skill that you just can't put on a résumé.